Thirty-Four Delicious Tequila Cocktails to Drink Anytime You Want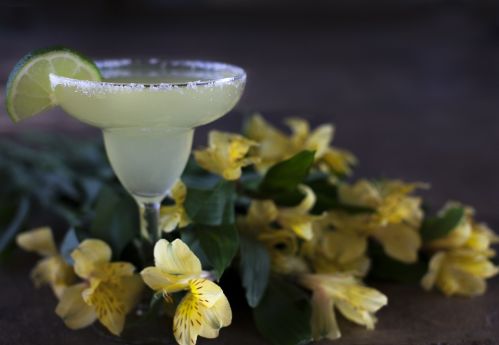 Are you ready to give your tequila addiction a little sophistication? Try fancying up those tequila shots with tequila cocktails instead. Here are thirty-four delicious tequila cocktails you can drink any time you want (permitted you don't have to dive anywhere or operate any heavy machinery, of course).
1. Strawberry Margarita
The margarita is an old favorite, but the strawberry margarita is a new delight, featuring strawberry schnapps, tequila, triple sec, and lemon juice—and a few extra strawberries, for good measure.
2. Tequila Sunrise
You can't start your day without a good sunrise. A little sweeter than the sunset, the tequila sunrise combines tequila, orange juice, and grenadine syrup on the rocks—and, just like your eggs, it is complimented by an orange slice garnish to boot.
3. Tequila Sunset
Top your tequila and orange juice with a hit of blackberry brandy to enjoy a sunset like no other.
4. Paloma
Bored of drinking tequila and orange juice? Try it with grapefruit soda instead for a taste sensation only the Paloma can provide.
5. Long Island Iced Tea
Can I freshen up that cola for you? How about with a little tequila—along with some vodka, light rum, triple sec, and gin? Long Island Iced Tea is a definite long-time-favorite.
6. Juan Collins/Tequila Collins
Still looking for that soda sensation with the tequila backswing? Serve up the Juan Collins: tequila, lime juice, sugar, and club soda on ice in a Collins glass.
7. Tequila Slammer
One part 7 Up, one part tequila: it's a taste sensation you won't soon forget. Sub in Mountain Dew or Ginger Ale as your fancy sees fit.
8. Matador
For a taste sensation that will leave you seeing red, combine silver tequila, pineapple juice, and lime juice.
9. Chimayo Cocktail
Looking to compliment your day of casual apple picking with an apple-inspired drink? The Chimayo Cocktail combined tequila and apple cider and serves it on ice.
10. Tequila Sour
Never send a whiskey to do tequila's job. Move over whiskey sour, blending tequila, lemon juice, sugar, and a cherry for good measure, the tequila sour is the new man (or woman) in town.
11. Pink Paradise
Tequila and bitters served in a Brandy sifter. Paradise couldn't get any more pink—or delicious.
12. Mexicola
Pepsi or Coke? You can choose your cola to suit your taste, but chances are, the tequila will trump all.
13. Durango
You aren't going to want to dodge this one: tequila, grapefruit juice, and orgeat syrup, garnished with mint leaves.
14. Cucaracha
One part kahlua, one part tequila: you can't get much more elegant than that.
15. California Dream
Tequila, sweet vermouth, dry vermouth, and a cherry: California doesn't get much better than this.
16. El Diablo
Tequila, creme de cassis, lime juice, and ginger ale, served over ice. Don't forget to drop in the lime shell for effect.
17. Bull Breaker
You've met the matador; now it's time to meet the bull breaker: three shots of whisky, one shot of tequila, and one shot of water. This one gets served with a straw so you can grab that bull by the horn.
18. Amber's Revenge
Scotch, rum, tequila, and beer. You might want to apologize in advance for this one.
19. Bartender's Margarita
Mix your best tequila, cranberry juice, sweet and sour mix, and lime, then float your grand marnier on top. This margarita will have you looking like a pro without even trying.
20. Benelyn
The hot toddy's a good cure for the cold, but, well, nothing can survive this one: tequila, peach liqueur, peach schnapps, hooper's hooch, and half a red bull. Add some cranberry juice to help that medicine go down. What cough?
21. Blackjack Margarita
You can't play blackjack without a suitable cocktail. Transform your margarita with tequila, triple sec, Chambord, and lime juice. It'll have you seeing straight aces.
22. Blue Lagoon
Ready to transform into the creature from the blue lagoon? Mix gold tequila, blue curacao liqueur, soda, lime juice, and a splash of pineapple juice. Drink up—but Dr. Jekyll beware.
23. Bloody Hurricane
Tequila, 7-Up, and a splash of grenadine: the perfect storm awaits.
24. The Broken Nose
This drink packs a punch. Pour tequila, advocaat, and grenadine; dilute with lemonade, but don't mix—let your taste buds take that punch for you.
25. The Cowboy Killer
This one isn't to be taken lightly. Mix tequila, Bailey's Irish Cream, and butterscotch schnapps with a little half-and-half and serve over ice.
26. Klingon Blood Wine
Looking for a drink your trekkie friends will have to love? Tequila, rum, grenadine, cranberry juice, and two dashes of tabasco sauce. Serve in a mug and "chech."
27. The Frogster
This one will get you hopping. Add blue curacao and tequila to an ice-filled glass, then add orange juice to turn it green. You might want to skip the fly garnish on this one.
28. El Chupacabras
It's no myth: tequila, mango juice, a splash each of lemon and lime, vanilla dr. pepper, and a drop of tapatio hot sauce. Your taste buds will be questioning their own reality the next day.
29. Electric Margarita
It isn't quite as lethal as the electric chair, but it's close: tequila, blue curacao, and lime juice. Serve in a cocktail glass you can electric slide across the table.
30. The Oh Canada
Whiskey, tequila, maple syrup, and a splash of lime. This one gets served over a hockey puck coaster, eh?
31. Cosmotequila
Tell that cosmopolitan to step up its game: tequila is the new boss in town now: tequila, grand marnier, fresh lime juice, and a splash of cranberry juice. This drink's shaken, not stirred.
32. Longdog
Put aside the London fog and take a drink of the longdog: gin, tequila, grand marnier, fresh lime juice, and lemonade. Don't worry; this one probably won't bite you back.
33. The Bon Voyage
You won't be able to have a bad trip if you start if off with gin, tequila, lemon juice, and blue curacao liqueur.
34. Bermuda Mai Tai
It's a Mai Tai with a twist: fill a martini shaker about half full with ice cubes. Pour tequila, triple sec, peach schnapps, and light rum over ice, add pineapple juice and top with dark rum.
Those are just the top of the fan picks for tequila cocktail. With so many to try, you're not going to want to wait any longer to get started—just don't try them all on the same night.