What Tastes Best with Tequila?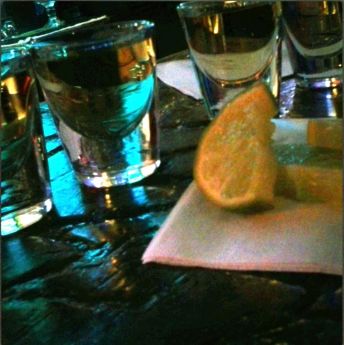 Tequila has a bit of a reputation for being a bit difficult to swallow, but premium tequila and the best tequilas in the world have incredible, rich, and variable flavors. Just as Scotch whiskey can range from smoky and peaty to sweet and smooth, tequilas have a wide range of flavor that contains some strong common aspects. For this reason, there are many foods that pair well with or simply enhance the flavor of tequila. Here are a few food pairings to try out with your tequila.
1. The Classic: Lemon & Salt
Let's be honest: sometimes there's nothing wrong with the classics. And while this combo cuts some of the amazing flavors in premium tequila, it's more about the ritual than the flavor itself. So why not grab a lemon slice and a bit of salt? The best tequilas are meant to be enjoyed, especially with friends, so get the party started and enjoy!
2. Switch it Up: Orange Slices & Cinnamon
This is a bartender's secret alternative to the lemon and salt. Just cut up some orange slices, shake some cinnamon on them and chow down after the shot. The cinnamon really enhances the flavor of the best tequilas while the oranges add a citrus sort of sweetness that isn't as harsh as lemons. And while it isn't a traditional food pairing like red wine and lamb chops, premium tequila isn't a traditional drink. This is an excellent alternative to the party classic!
3. Italian Influence: Ricotta Gnocchi
Gnocchi, Italy's delicious and fluffy answer to the dumpling, is a wonderfully versatile food that can pair well with almost anything. For matching with premium tequila, some people love to use a ricotta gnocchi in pomegranate and beets. The earthiness of the beets combined with the sweet flavor of the pomegranate is an incredible flavor combination, and the ricotta gnocchi adds a wonderful texture that's a perfect pairing for the best tequilas.
4. Steak. Just Steak
A delicious steak is one of the unparalleled cuisine classics, appreciated around the world for its incredible simplicity and taste. Nearly every culture in the world does steak in its own unique way, and premium tequila makes a surprising complementary drink for steak. We recommend a classically-spiced steak with pepper, garlic, and salt. The deep, rich flavors of the best tequilas bring out the richness of the meat, and the spices go together with tequila's kick in a fun way.
5. Double Down: Chicken Tacos with Chipotle
This may come as a shock to some but tequila pairs amazingly with Mexican food, and there are few things more Mexican than chipotle and tacos. Chipotle, more than a chain restaurant, actually refers to the flavor of smoke jalapeños, and the smoky spiciness is the perfect, long-held flavor that almost always pairs well with premium tequilas. And what better way to enjoy that flavor than in a chicken taco? Load it up with everything you love and pair it with your best tequila. It's the perfect way to enjoy Mexican cuisine and have a little fun along the way!
6. Calamari
Calamari, like tequila, is simply wonderful when done right, and very underwhelming when done incorrectly. That is why it is important to pair premium squid with premium tequila, or even the best tequila you have in your home. We recommend that you keep the calamari simple: grill it on the barbecue or on the stove with minimal seasoning. Squid, again like tequila, is often covered up with an abundance of other flavors that hide the real, delicious taste. These two, when done with little fanfare, are actually at their best, and they draw out the flavors that many, unfortunately, try to mask.
Premium tequila is one of the best flavors in the world, and it is severely underrated in the world of spirits. The flavors that you can discover inside the best tequilas rival wines, whiskeys, brandies, and all the world's most admired alcoholic beverages—and there are delicious food pairings that you can discover with tequila as well. Rather than simply enjoying on its own or in a cocktail, be adventurous with your tequila tastings: make something that helps enhance the flavors of your favorite tequilas and do not hesitate to experiment. You may discover a delicious flavor combination that no one has tried before and thereby may really discover a new facet of tequila flavorings. So the next time you want to try some unique food pairings, start with a bottle of premium tequila and see where your palette takes you.