Why Online Wine Stores Are Increasing in Popularity?
Online wine stores and wine delivery services have exploded in popularity in 2020. Pandemic shopping, convenience and extensive selection are a few reasons why there is a boom in online wine stores. Online wine stores and wine delivery services are catering to a wine enthusiast's every need.
According to a recent Nielsen report, at-home alcohol sales have increased by approximately 27% during the current pandemic. People are stocking up on wine and other alcohol just like they're stocking up on toilet paper and other essentials. Wine delivery services have made it incredibly convenient to shop for a variety of wines from the safety of one's own home.
Incredibly Convenient
During the COVID-19 pandemic, consumers in every industry are looking for contact-less ways to shop for their favorite products. The wine industry is no exception. People turned to online wine delivery services to purchase wine when their local retail wine shops were off-limits. With few options for recreational activities during the pandemic, many people took up a new hobby in wine tasting. More people than ever before are drinking wine at home rather than in restaurants or bars.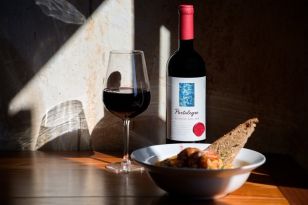 Consumers discovered that wine delivery services and online wine stores often have excellent websites that are a good substitute for in-person wine store experts. Online wine stores make it easy for their customers to find out all of the information they need to select the perfect wines. Each wine listing contains information about the vineyard, wine makers, varietals and even food pairings. Customers can read online reviews of the wines to find out what other connoisseurs say about them. Wine delivery service websites are a wine lover's dream.

Exceptional Service
Since online wine delivery services don't have the face-to-face opportunities to assist their customers with wine selection, they have to have exceptional service in all other ways. Websites are incredibly informative and up to date. Orders are shipped as soon as possible. Questions are answered by live sommeliers who understand the intricacies of their wines.
The best wine delivery services have temperature-controlled wine storage facilities to keep the wine at the perfect temperature for long-term storage. This beats most in-person retail wine stores storage on shelves in the shop. Wine delivery services also offer a variety of extras like memberships, tasting kits, and curated gift collections.
Extensive Selection
Online wine stores and wine delivery services have the ability to source wines from all over the world. Customers can choose a wine delivery service that specializes in small production, family owned, responsibly farmed selections from around the world.
Customers can take a virtual wine world tour and filter the extensive selection on a wine delivery service website by country. Each wine producing region has information about climate, how the grapes are grown and what they are known for.
Wine delivery services and online wine stores often have rotating sections based on which wines their import and distribution department procures. This ever-changing selection makes sure that customers will always have something new and fresh to try.
Extras
Not only can customers stock up on fine wines through wine delivery services, they can also order a variety of accessories. Most wine delivery services offer high quality wine glasses and decanters. Customers will have everything they need to enjoy their wine selections from the comfort of their own homes.
Some online wine delivery services also offer blind tasting kits. Customers choose wine style (red, white or mixed) and the number of bottles they would like to taste. The wine delivery service wraps the bottles so the tasting can be done blind. They also include information about how to do a wine tasting and a wine tasting grid. The wine delivery services make it easy to order matching blind tasting kits to be delivered to separate addresses for COVID-friendly virtual wine tasting parties.
Online wine stores are taking wine delivery service to a new level. No longer just for house parties going late into the night, wine delivery services offer a complete sommelier experience with plenty of selection for the most experienced wine connoisseur.
Consumers started using online wine delivery services for safety during COVID-19, but they found that the convenience of browsing wines and shopping online can't be beat.