Sushi: Why it is a Favorite Dish for Parties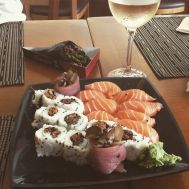 We are all facing tough times right now, the economy is going down and it has taken the moods of people down with it. And one of the best and economical ways to revive the mood is to throw a sushi-making private party without burning a hole in your pocket.

You can host a sushi themed party, for how many more years are you going to serve the same old dry turkey for dinner. Make a change this year, which the turkey with some healthy sushi tanked with fresh and delectable stuffing. You may be the pioneer of a tradition of your own. Sushi making private party will not just turn you into a favorite but will also give reasons for people to think you are a trendsetter and apart from the crowd.

You can call your folks and impress them with your culinary skills. Make them some yummy sushi that they cannot keep their hands off, let the world know your skills, and thinking both are unique. Also, you never know that they keep coming back for your special recipe filled with warmth, let's face it who doesn't like some extra popularity and appreciation. Being a host to sushi making private party isn't as easy as it sounds, it may get a bit daunting, mostly because everything rests on your shoulders. You will have to take care of everything, from preparing for the party to making a full course meal for your guests and getting yourself ready as well. The host has to be presentable too.

So ready yourself for some leg work for your sushi-making private party and keep the following tips handy to be sure nothing goes wrong.

–    The first phase of hosting a sushi-making private party is to plan how to do things step by step. For this process, no need to leave home. It can be done from the comfort of your bedroom while surfing the internet for some ideas.
 
–    Get your budget right. If you have a limited budget, make a plan that is a little less than your set capital, always hold a little fund for backup and emergency supplies. The next step is to grab as many good deals as you can, search for discount coupons, good deals on vegetables and fish, etc.

–    Send out invitations as soon as the idea of sushi making private party is final in your head to make sure you know exactly the number of people you want to invite and how many are going to come. Set a reminder to confirm with the same people once more about their presence, just in case. If possible, you can also check what kind of fish or meat these people like to eat so that you can make sushi according to their taste for them to enjoy your palatable efforts to maximum. This will also help you stay away from food that is not so popular and maybe end up getting wasted, don't invest your capital in such recipes.

–    If the people you are inviting are family or really close friends you can ask these people to bring you a side dish. Side dishes can be anything from desserts to rice wine and from tea to cookies. Anything is of great help since you have to cook a meal as well.

–    Most importantly, go online and search for some experimental recipes for your sushi making private party to try something new with your folks, maybe something that you also wouldn't have had earlier. You can ask your folks to try and make it with you and this way, there will be a little interesting activity for everyone to be a part of the party.

By going through this process, you will be able to cut cost on a lot of things for your sushi making private party. And at the same time, you will be having a warm time with your family and friends.