What are the Advantages of Stainless Steel Food Storage Containers?
Nowadays most households store food in some form or the other and for this various options are available in the market. Many people prefer glass and plastic containers to store food products, but these are fragile.
On the other hand stainless steel food storage containers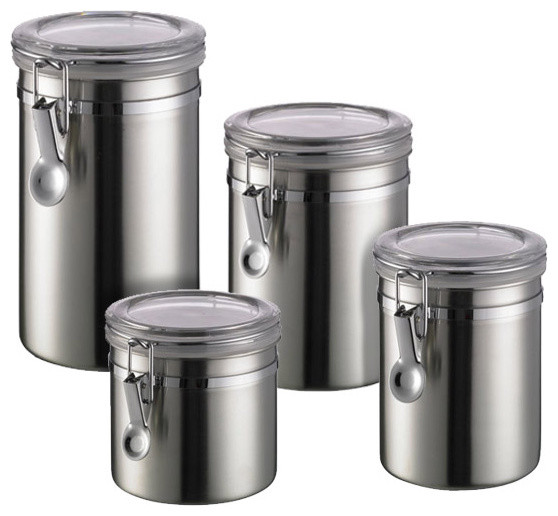 are as aesthetically appealing as the glass and plastic counterparts but much more durable and sturdy. Apart from storing several items like spices, wheat flour and other ingredients in the kitchen these containers can also be used to store food stuff in the refrigerator. There are many reasons why stainless steel containers are the best option for storing food in any form.
•  When you use plastic containers it is possible that harmful chemicals get leached into the food. Stainless steel is non toxic, non reactive to even acidic foods and hence completely safe. Hence we can say that safety and good health of your family is one of the main reasons why you should use stainless steel containers.
•  Plastic containers tend to discolor and become stained with usage, but steel always looks clean in spite of becoming somewhat scratched.
•  One of the most important advantages of stainless steel is that it does not break, like glass or plastic even if dropped on a hard surface.
•  Steel is a very hygienic material because it is not hospitable to the growth or harboring of bacteria. At the same time, odors cannot be transferred which is a common complaint with plastic containers.
•  Nowadays it is possible to get stainless steel food storage containers which are leak proof and air tight. This is done with the help of locking clips and silicone seals similar to the ones found in plastic containers. This makes these containers perfect for the transfer of food items like salsa, yogurt or dip.
The best part of stainless steel is that it is recyclable. This is the reason that the stainless steel products that you buy are most likely to contain at least 75% recycled scrap steel content. In fact if you feel that you don't want to use a container anymore it can be recycled endlessly.
On the other hand most plastic containers are not accepted by municipal recycling programs.
Another reason for you to opt for stainless steel is to make for litter free lunch boxes. As a parent you definitely want your child to learn good habits and one of these habits is green living. For this purpose you should teach your children about the necessity to reuse and recycle as much as they can. One of the easiest way to do this is to plan lunches that don't produce any garbage. Stainless steel food containers can also be brought home and reused the next day producing no litter for the school or workplace. While it is quite tempting to opt for reusable plastic containers instead, you need to think again. This is because plastic containers are definitely better than sandwich bags and plastic wrap, but they cannot beat the eco friendliness of stainless steel.
The best part is that there is a large variety of stainless steel food containers available in different sizes and for different purposes. What's more you don't even need to trudge to the local store to buy them as they are easily available on the internet. Nowadays you can find a large number of online stores which sell stainless steel food containers. The best part is that these online stores provide a much larger variety of brands, designs and styles to choose from because they do not have the limitation of space that usually physical stores do. At the same time these stainless steel food storage (www.ehow.com/how_5632263_store-food-stainless-steel-pot.html) containers are available at much lower prices in online stores. This is because the online stores do not have to spend money on overhead costs and they pass on these savings to the customer. As a result almost all the products that they sell are affordable.