6 Tips on How to Save Money on Organic Groceries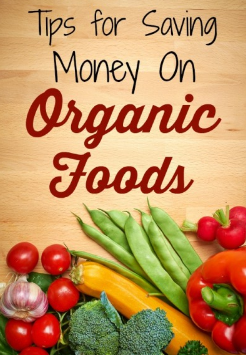 Nobody around you including yourself would adjust to a non-healthy life. Everyone wants to stay fit and healthy. Organic foods are a way to being healthy but it comes with a cost. Organic groceries have sky-touching prices, but it would be not wise to omit them. Studies have shown that all-organic diet helps in stronger immune system and less body weight and fat.
The ultimate way for organic grocery shopping are simple, you just need to look into them. Organic groceries store more than 25% more nutrients than non-organic food, which may carry preservatives and pesticides. To have a clean diet, it is necessary to include more and more healthy organic food.
Many people wonder if the secret to staying healthy is eating and choosing organic groceries, then why the cost is much higher than non-organic products, which not only damage your immune system, but are also attracting so many diseases like cancer, neurological problems, and skin diseases. The answer to this question is simple. Something that can keep you healthy and bless you with longer life will have to have some monetary importance over non-organic products.
1.  Bulk-Buying Technique: Bulk-buying technique for organic grocery is a sure shot way to save on your pocket. Organic products have a longer life, can be stored in freezer for longer durations, so plan and chart out your requirements, and do bulk buying of organic groceries.  Almost every organic product store will have organic food container or bag in which these products can be stored for longer duration.
2.  Be Generic: The brand labeled organic groceries will be set at a much higher cost than your generic local food brands. The more generic your organic food (www.webmd.com/food-recipes/organic-food-better) is, the more it will be carrying nutrients. The brand names are just to add the cost to your shopping bill. However, brands sway many people, but generic food products are much healthier and do not cost a bomb on your pocket.
3.  Grow Your Own Farm: If going generic does not seem like a safe option for you and brand labelled products are making you cringe away from paying the hefty bill then you can always go for growing your own farm. This seems like the most secure choice as you do not have to worry over the crudeness of the product and you can eat as much as you like. The storing of organic products is simple and easy and, so is growing them.
4.  Prioritize and Organize Your Organic Grocery Shopping: When you are aware of the extra cost the organic food brings but the healthy nutrients are not something you can keep your family away from then it becomes very important to keep in mind to pan out your requirements over a chart or a notepad. Prioritize your and family's nutrient intake and accordingly chart out the organic grocery shopping. Save and be meticulous when it comes to organic grocery shopping and do not waste the products.
5.  Discount and Coupons on Organic Grocery: It is very easy to browse through local organic shops and look for discounts and coupon offers on organic groceries. Most weekends and especially Mondays are assigned with most of the discounts. Most of the organic grocery stores privilege their customers with discounts and coupon offers to retain customers and to increase brand loyalty. There should be no hesitation in asking for discounts or coupons in stores. Many local grocery stores and online grocery website provide with membership/club options, which can provide you with good deals in organic shopping.
6.  Consider Online Organic Grocery Shopping: In this technological age, there is nothing that remains untouched from it. There are many trusted online grocery stores and healthy food websites that shower its customers with not only discounts and coupons, but also provide with quick recipes and, healthy and valuable information over each organic products. Online organic grocery shopping is pocket friendly, easy, and simple. Almost, all of the online organic grocery stores will provide you with nutrients intake chart for each product. Bulk buying option is also available and you do not have to worry about carrying the heavy baggage.
When it comes to organic grocery shopping, it becomes extremely viable to do it smartly. Each smart tip you utilize will bring you much heftier pocket than a bill. So buy, store and, live healthy.